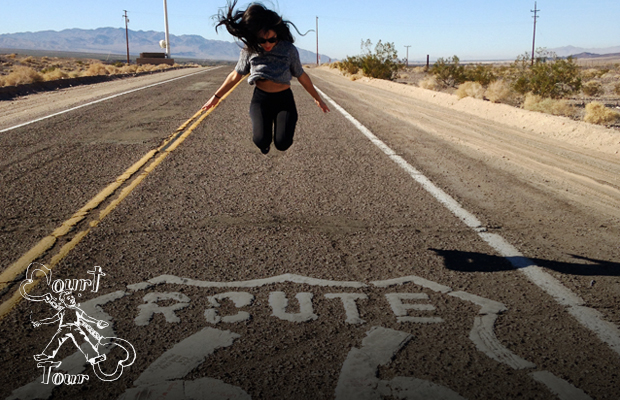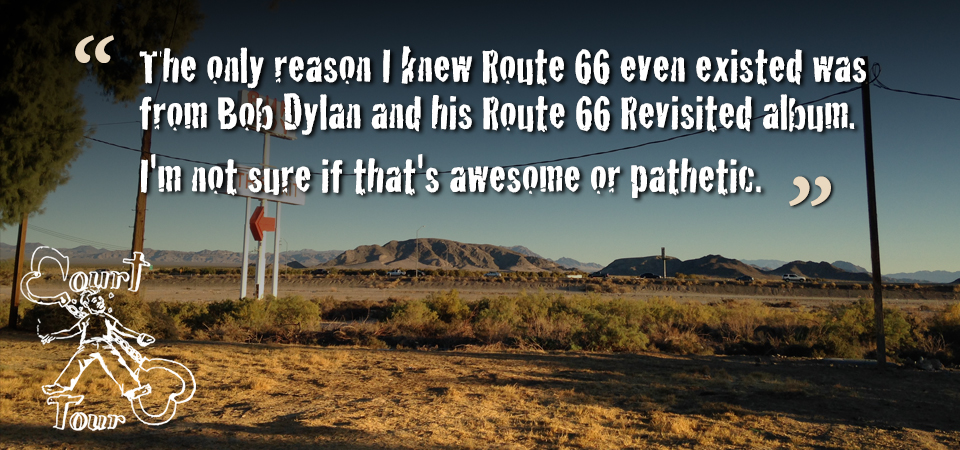 Being the oblivious person that I am, not a clue to how we ended up on Route 66 found its way into my cloudy thoughts. The only reason I knew Route 66 even existed was from Bob Dylan's
Route 66 Revisited
 (1965). I'm not sure if that's awesome or pathetic.
So we talked, Camila and I, right there under the sign, and a few yards away from the old, famous, white Route 66 brand painted white on the two lane road. It was strange to think that it was painted almost a century ago, in 1926; the road symbol was still quite intact.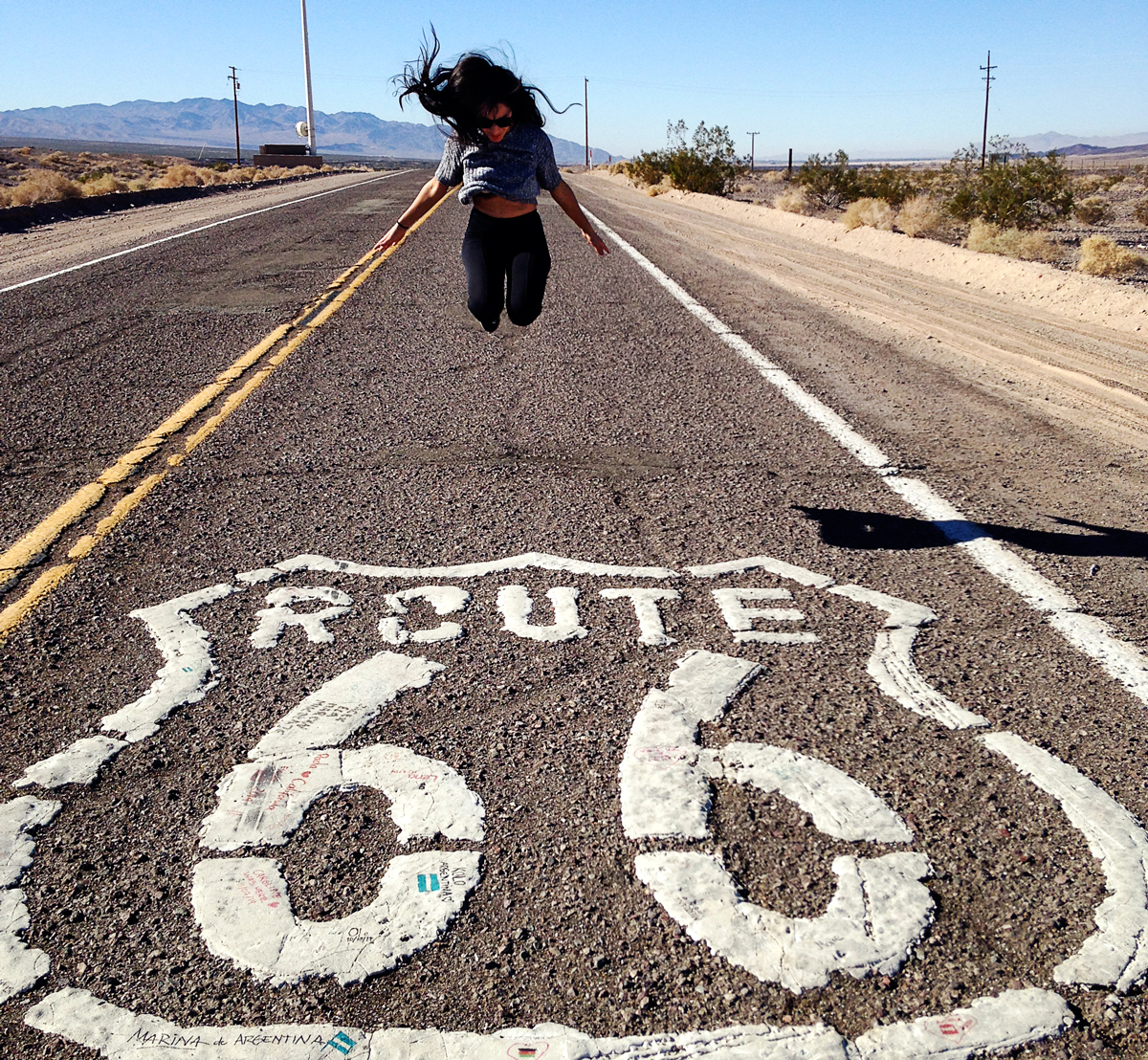 Time froze as we found a median–that median when a couple ends a quarrel by looking past themselves, and into the other person–when reason is met, and through this complete understanding, the couple is not just brought closer to each other, but to themselves as well. It's when two people who love each other let go of those insecurities, or hard-headed non-sensibilities, or lack of reality. It's when two people who love one another explore that fear of change and really embrace the other person's differences. It's that big step towards forever. This magical happening radiated off of our now embraced bodies as the wind squinted our eyes, desert bushes rattled in the distance and a semi-truck roared by on the nearby 40 east. We kissed in the middle of Route 66 and held one another; together peering down the never-ending two-lane road below our feet.
Decisions were made and plans were changed again. Now, we were going to go to Las Vegas for the night. The "plan" was to party and drive to the Grand Canyon early the next morning, but you know how plans can go sometimes; especially ones as outrageous as this one: We would have to sleep one hour at most, drive five or six hours to the Grand Canyon, stand there for ten minutes, then turn around and leave to begin the grueling 12-hour drive back to the Bay Area. Camila had to drive the entire time, because I didn't have a license. It sounded like madness, but with Camila sailing the ship and me navigating, we could do it.
Finding hotels in Las Vegas was way easier than I had expected. I simply found some promotion thing on Google and had a one bed suite in the Hotel Riviera within seconds. We drove the same distance from Barstow to Las Vegas BACK on the 40, now going west, and hopped on I-15 East to make our way to the city that never sleeps. Doubts nervously paced back and forth in my head about making it to the Grand Canyon, but I kept them to myself. The last thing I wanted was another fight.
We got off the 562 exit, and the display before us was beyond a shit show. The eight-lane free-for-all was a combustion of horns and vehicles merging in a mania of madness. It took about 30 minutes to move 30 feet. Already, I thought Las Vegas was fucked.
After about two hours, between getting parked at the hotel and getting our room, upstairs to the 23rd floor we went. Once settled, we hit a TJ Max on the strip so I could obtain clothes that Camila approved. That's right, I said it. Clothes that she approved.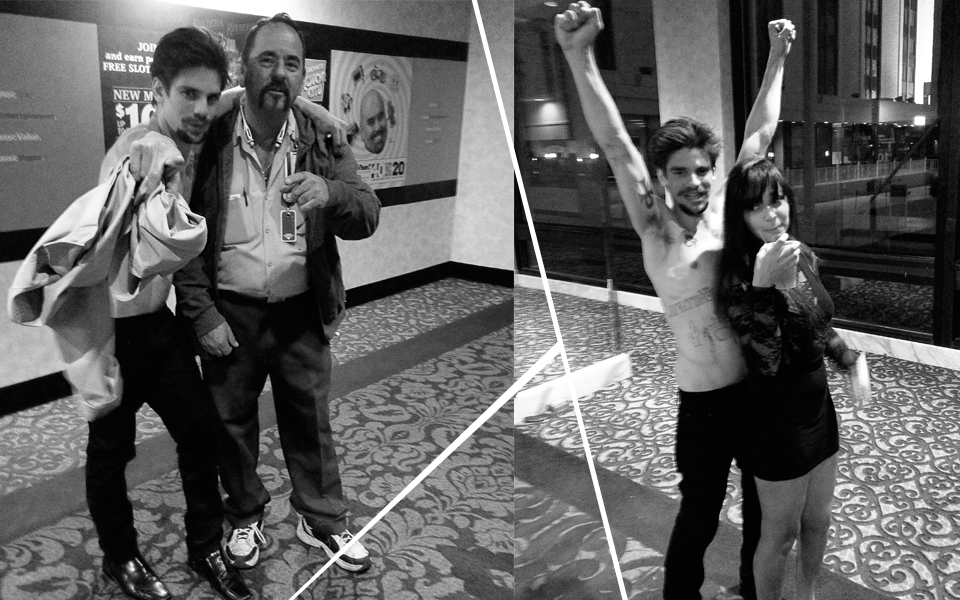 Camila was tired as hell and I couldn't blame her. She had been non-stop driving; not to mention the maybe 10 hours of sleep we had acquired over the past four nights. With her napping on the large Queen bed under it's satin sheets, I decided to go explore the Casino downstairs and pick up some 7-11 sandwiches with my reeling EBT funds.
I was dazzled by the chaos unfolding everywhere around me in the lobby, until a strange man sidled me; snapping me out of my trance.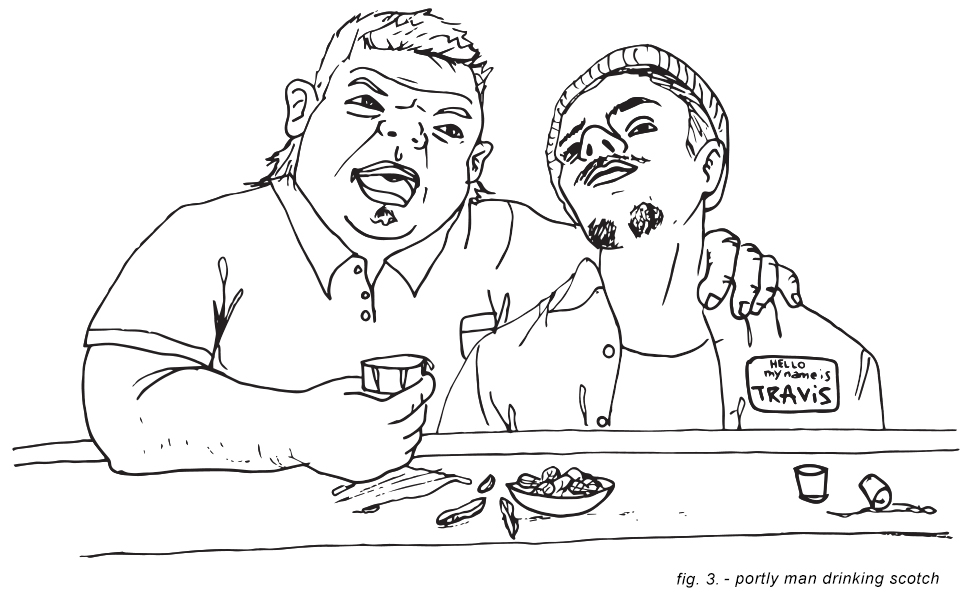 "Hey man," he said, "There is this AA Convention going on over there. So far, I have seen at least 10 people at that convention now sitting at that bar," he paused, "knocking 'em back." With this, his finger guided my eyes to a portly man drinking a scotch on the rocks, bar stool shoved up his ass, red faced, jolly, and headed straight for the bottom again.
What a great story that would be to write, came to mind. Who would have an AA meeting in Vegas? I eagerly investigated this phenomenon but was quickly shut down when the door man asked for some kind of pass. What the fuck! I was an alcoholic! Even the alcoholics have become privileged?! What next? NA after hours parties for VIP ex junkies?
Upstairs in our room, I got ready and started to slowly awake Camila. I knew she was tired, but it was already 1 a.m. That didn't seem to matter, for we were two humans who were known for blowing it, in a city that never stops blowing it.
By the time we hopped in a cab, it was three thirty in the morning. The cabby, unbeknownst to us, worked for a strip club and told us the city was shut down. Camila asked him to bring us to Fremont Street, but he insisted that we don't waste our time. The strip club was the only place that had anything going on. Wow… and we believed it.
The bouncer wouldn't let us in at that seedy strip club somewhere off North Las Vegas Boulevard. The bearded walrus said Camila looked too young, and without an ID to show, there was no way she would be allowed entrance. Camila became very upset. We came all this way to not see a single thing. She wanted to see all the famous hotels on the strip, the famous "fuck you Las Vegas sign," Fremont Street; and here we were getting denied at a scummy strip club! Full of melancholy, we headed back to the hotel to call it a night. It looked like our hotel Casino would have to make due.
A shifty man approached me in the bathroom as I shook the remaining urine free from my bladder. It was now 5:30 a.m. and drunken skies had long fallen over my mind; my shirt had already come off once that night in the lobby, and I was making my round for the second display of idiocy; it could commence at any moment. The strange man mumbled some incoherent question to me. With donut-glazed eyes, my head jerked like a chicken in his direction and my penis was sloppily fumbled back to it's place of dwelling. Xanax. He wanted to sell me Xanax.
Hell, I could always go for a bad time, so I gave him the $14 for two little yellow brick bad ideas.
Stumbling out of the bathroom, I noticed Camila coming out of the ladies room. I told her what had just conspired; the strange moment when two men "do business" in a public restroom together. Painted on her face was the same drunken smirk that I had on mine, so we agreed to go back up to the room and party.
A desert sun was beginning to peak above the horizon. Rock 'n roll was bouncing off the windows, rattling rusty curtains that sought to sheath the seeping sunlight, a glimmer creeping through corners of our trashed hotel room. The last thing I remember was the burning, Alka Seltzer-like, yellow-powdered, black-out brick bombarding my right nostril like a wind storm. My head rose up and darkness swallowed a grainy scene of Camila dancing wildly on the bed. I think it was 7 a.m.