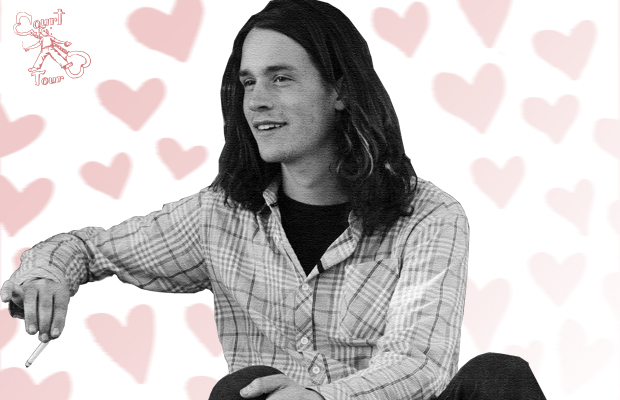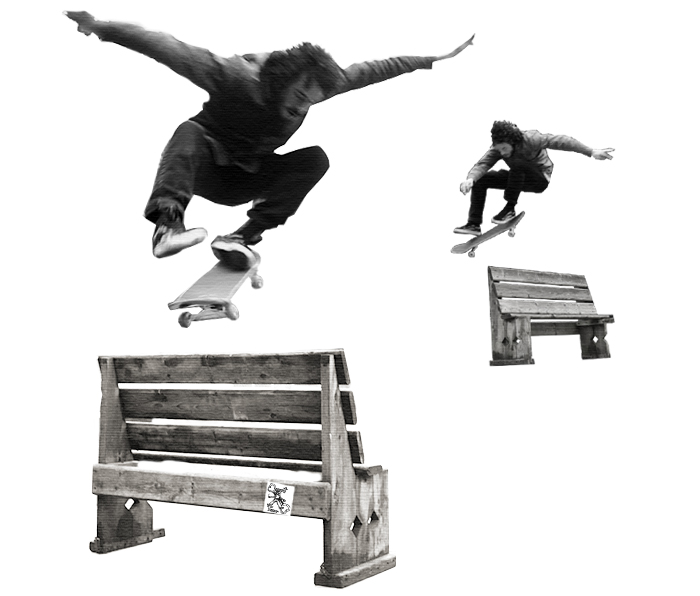 Blake Johnson, Instagram's moon facing bandit, had no idea what his tomfoolery birthed. This was nothing like the time when he insulted a rapper about sleeping with Ice-T's wife and designated the blame to some white, unsuspecting kid from the Midwest. His little "hashtag" created a full-blown tour after I pitched the idea to the president of
TMG Creative
, Adam Crew.
With Adam's wealth and success, he wanted to sponsor and fund this trip, giving me full creative direction in the lineup of people for this tour. I chose three people in particular; one for each state to incorporate their amazing talent into the existence of this flopping tour. Hell, we all get old and deserve one last bang.
Three cities in three different states; Long Beach, Las Vegas, and Georgetown, Texas. I wanted Stephen Perdue to skateboard in Long Beach, David Abair to DJ in Las Vegas, and Travis Graves, also known as Mt. Egypt, to perform in Texas. Adam was instantly skeptical about Abair's credentials and punctuality, but I promised his legitimacy; DJ Abair had drawn large crowds at the one and only Hound Lounge in San Francisco. We had our people, now was the time to make it happen.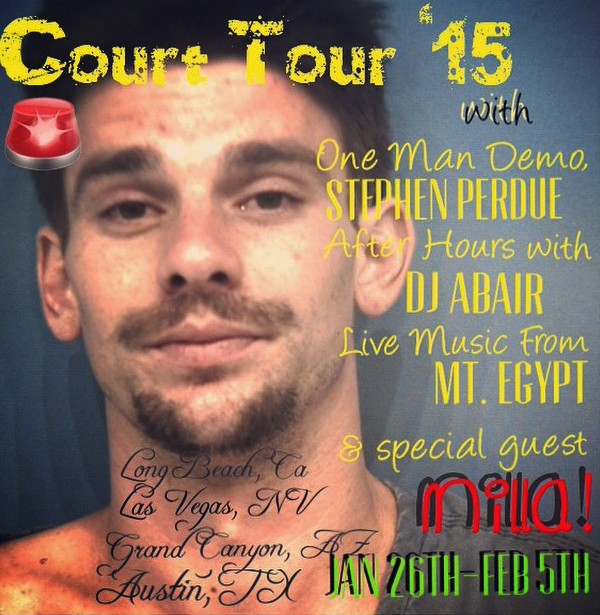 Court in Long Beach was at the rooster hooting hour of 7 a.m. Natalie Kozanitias had picked me up the night before and let me sleep on her and Corey's high end, L shaped couch that stretched from one end of their living room to the other. Corey was in Santa Barbara tending boats, but Clicker the pooch sent me Corey's Grecian love with slobbering kisses as I settled on that Godly couch. Camila and I talked for hours about a possible marriage. I rudely ignored Natalie's Sloppy Joe feast; deliciously seeping through a kitchen window. As usual, life was moving at light speed.
I represented myself in court after writing almost nothing across the street at a corporate, bully coffee shop. My argument with the judge was primarily the fact that I had no money and mostly no time at all; so she waved all fees and sentenced me to AA meetings for six months. My cheap suit shined with Law and Order's Raul Esparza's confidence and, in my mind, victory had never been more fluent. I tasted it on that proud day.
Not much time remained before the One Man Demo would begin with Stephen Perdue at the Houghton Skate-park in Long Beach, California. Adam had flown in Perdue, and TMG's one and only Fred Zahina to document the event with his Super 8 camera, unique eye, and all-out CURMUDGEONRY. This duo made me very nervous, however, and part of me would be surprised if the two of them even showed up at all. Adam briefly had told me that he had gotten Steve and Fred their own rooms at the five-star Renaissance Hotel in downtown Long Beach with a budget of one thousand dollars for living costs. Those two definitely were blacking out.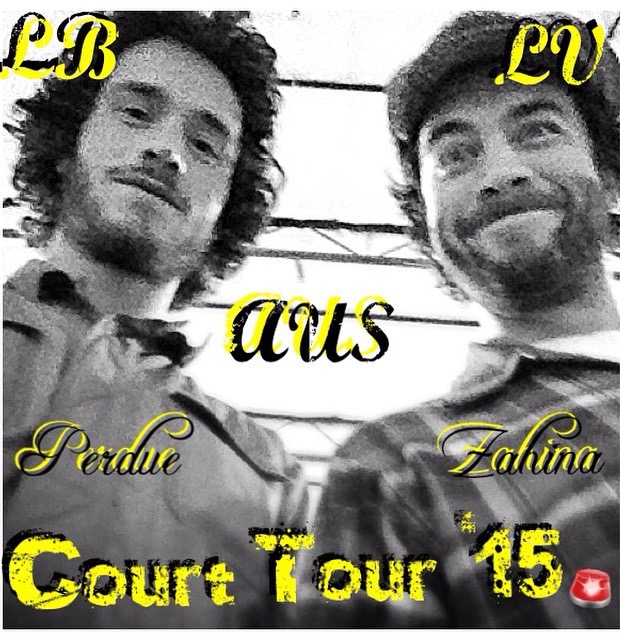 " Those two definitely were blacking out. "
One hour remained before the One Man Demo, and word had traveled that my oldest friend and highly talented artist, Brandon Hurley, better known as Bear in Woods, had just done a showing the previous night to promote his business; Brandon Hurley Arts where one can find multitudes of flawless strokes of fine art mixed with urban rawness. After calling him, we agreed to grab a quick bite at Roscoe's Chicken and Waffles before the demo.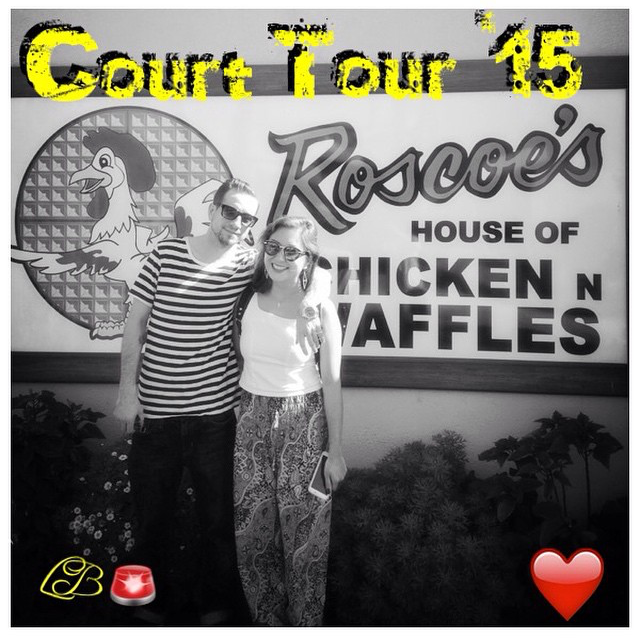 Bear in Woods and his girlfriend whom I had never met, Natalie, stared at me with wide-eyed awe as I inhaled my dish. Time was running out and I needed to get to the demo pronto. The One Man Demo with Stephen Perdue was scheduled for an hour. That would give me enough time to show my face, execute a little PR for The Court Tour, throw some product, and get the hell out of there to catch my flight back to San Jose. Long Beach was the short part of this three-week stint, so every move I made had to be delicately coordinated with time. Quickly, I paid my bill, gave them both my love, and hailed a cab. I liked Natalie, and throughout the 20 years Brandon and I had been friends, he had never introduced me to a woman whom I liked.
Perdue was already on the course ripping. Fred was drunkenly skating around with his camera in hand. Both of them looked a little rough around the edges. Who wouldn't after being granted a thousand dollars for but one night? I remember the old Toebock trips when you had to get yourself to an event with your own money. How so much had changed.
Perdue killed it. The crowd of skinny pants wearing teenagers, with blinding braces and bleached hair, screamed as they had just seen Jesus himself after Perdue effortlessly landed every trick. His male model smile curled under his flowing curly hair as he cruised through the park, while 19-year-old girls shrieked due to his dreamy demeanor. Now I knew what it was like to go to a Beatles concert in the early 60s.
I heard one girl, who could have only been twenty at the very least, say,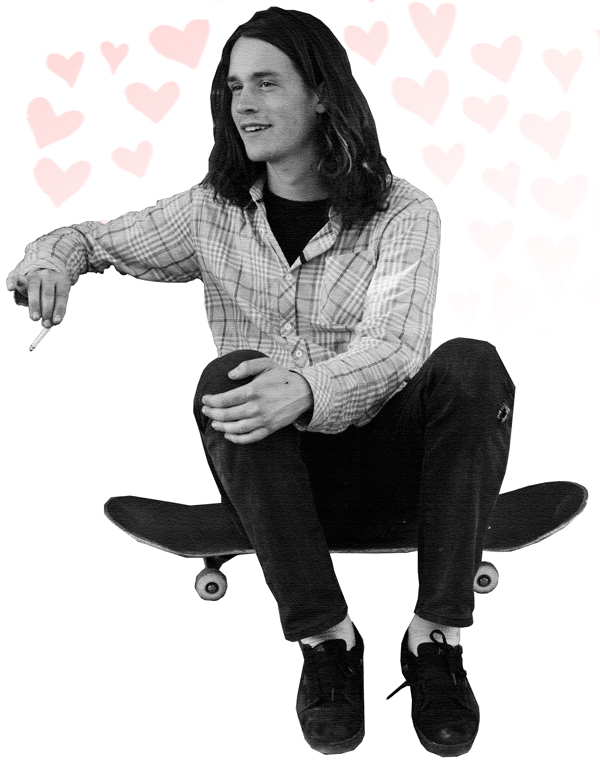 " He is SO hot. I am going to fuck him tonight. "
Her friend disagreed and the two minors started violently slapping each other, which led to them both being escorted off the premises by a nearby, enticed police officer. This was out of control.
Fred found me in the crowd and led me to a box of products. He handed me a megaphone and called me a piece of shit; for what reason, I hadn't a clue.
I threw product out and the crowd went into an all-out frenzy. The Court Tour posters and shirts were thrown, but every pair of hands that touched these items immediately dropped them to the floor. No one gave a shit about The Court Tour. I mean, could you really blame them? I myself was having a hard time understanding what exactly I was trying to accomplish with this strange tour.
Pig Wheels and a couple of Habitat boards, a Silas and a Gall, were heaved. Also, I threw some "Don't Act Famous" videos out into the wild crowd. Three DVDs were tossed out into the wave of hands and one came hurling back; belting me in the face like a Big Gulp in The Weatherman. Harsh.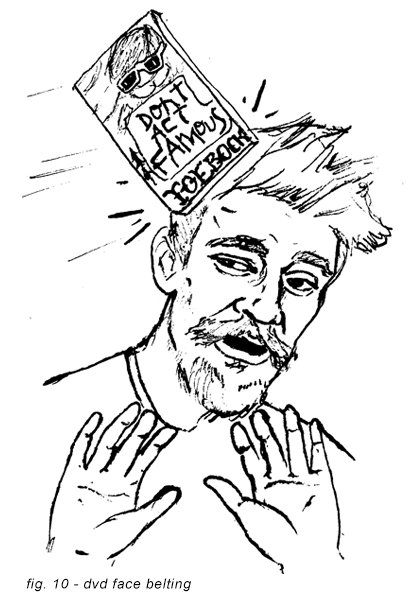 Perdue was trying to land some kind of demo-ender trick as I packed up my shit; a loose pair of wheels and my flyers which only Fed Ex made a profit from. Upon entering a cab I had bum-rushed in the middle of a busy street, I heard the skate park explode in applause and excitement. Perdue must have landed his demo ender. Like a kid leaving his hometown in a cheesy movie, I peered out of the back window in the cab but instead of witnessing a teary-eyed best friend shouting against my departure, I only saw Perdue's scruffy, dirty blonde hair bobbing above a jagged silhouette of women, swarming him like a flock of termites do to a decaying log. His shirt had been ripped off and in my dwindling sight I could see Fred Zahina with his shirt off, too; shotgunning a beer and trying to feed off the less fortunate girls who couldn't break through the barrier of hormonal maniacs encompassing Steve. Meanwhile, Perdue's smile remained UNCHANGED with that male model smirk never leaving his lips. It seemed to me that he didn't even realize what was happening, let alone where he was. He was like a parrot trying to hold onto a swaying palm branch as it's being tossed around violently by a Florida hurricane. Never really knowing the danger of the situation, but loving every moment of it.