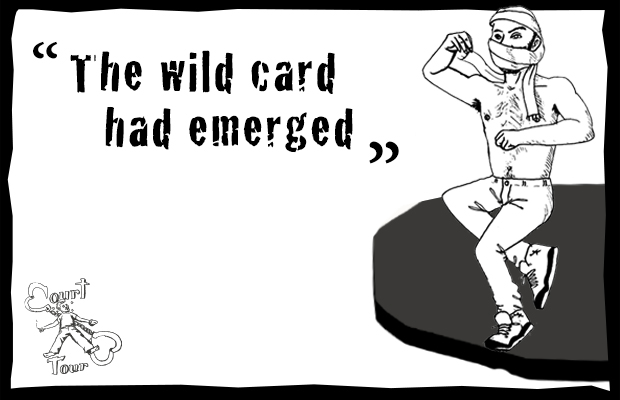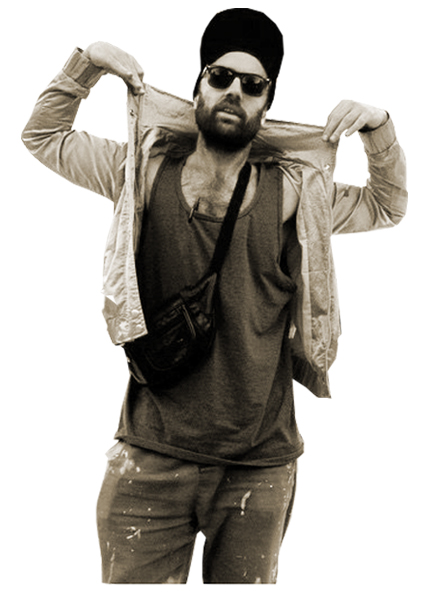 Our honeymoon was quick and simple. After we got married, Camila and I got a slice of pizza and a bottle of cheap sparkling wine at a neighboring liquor store. Instead of going out on the town and getting wild, we went back to our hotel and held each other until the night lulled us to sleep. After all that time, we were finally united. Together for the long haul, and in it to win it.
Camila missed her flight by three minutes the following day; Super Bowl Sunday. We sat at the airport for seven hours trying to get her on a flight. Trial and error crop dusted us over and over, laughing the whole time like a shit head kid, although eventually, we were able to get her on the last flight to Austin that night.
Even though I would be seeing her two days in Texas–where one more court date awaited in a little town called Georgetown and the final Court Tour stop with Mt. Egypt would take place–I already missed Camila. Nostalgic tears battered my cheeks like hammering rainfalls as I passed the little chapel in which we had welded our souls together; less than 24 hours prior.
Court was a failure. Charges still had not been filed. The lab where blood awaited processing was backed up worse than a grease-ridden septic tank. Las Vegas has the highest rate of DUI fatalities in America, which I would assume means the entire planet. It was no surprise that their blood labs were swamped.
Adam had booked me a room at The Hotel Riviera and Casino for that night. All I had to do was cover the deposit they would require. That would not be a problem. My deposit from Motel 8 would be returned in a mere couple of hours.
Aimlessly, I wandered in and out of casinos on Fremont Street with one lumpy, unforgiving suit case from the 80s and a computer bag that was dissolving at the seams. I played penny slots to digest the minutes before check-in time called at The Riviera–which was around 1:00 p.m. Once past the toiling waiting game, everything from there on out would be as smooth as an early morning lake.
The desert was ruthless that day. It must have been 110 degrees and all the weight I was lugging added another 10 degrees to my body temperature. My brain was simmering as I walked down The Strip. The deposit from Super 8 had not been returned as quickly as I had anticipated, leaving my pockets empty and causing even a bus fare to be out of my budget. Las Vegas was such a different place during the day. One could see the scum crawling down the sidewalks and up onto the casinos. It was like turning the lights on in a Miami nightclub.
Disappointment patiently waited for me with a smug smirk and it's foot tapping, four miles down The Strip at The Riviera. My deposit from The Super 8 had not been returned, which meant I could not pay the deposit at The Riviera. The busy hotel clerk told me I would not be getting a room, and before I could argue, a fat man in a plaid shirt shoved me out of the way and was granted my room. The prostitute he was with growled at me so I decided to let it go.
Most people in Vegas leave their slot machine when there is not enough money to make a bet. They don't bother printing a ticket of 17 cents. My flight wouldn't leave for another 27 hours, so time was something I could spare. Inconspicuously, while baby sitting a boiling beer in my sweaty palm, I wandered from slot machine to slot machine gathering these aborted tickets. Eight cents here, another 12 cents there. After gathering about 200 of these tickets, I went to a slot machine and cashed out, gaining a whopping $3 or so. How do you like that Casino? Looks like I win, you fucks. Pure desperateness had long sheathed any kind of reason because obviously I was the one truly losing.
Las Vegas faces flew around me. The families straight out of National Lampoon's Vacation brought my thoughts to, Who would bring there kids to this place? Weathered, cigarette drenched women who had been chewed up and spit out years before waddled along the bloodstained carpet. Bro's yelling "Vegas" with hopes to fill the never ending void within their insecurities stalked the grounds. Young chicks with breast implants, yearning for some kind of purpose whose next stop in life was the "weathered, cigarette drenched woman" searched for suckers to suck the life from. All hopeful. All desperate. All mangled. My reflection dashed by a golden elevator, and a discerning horror washed over my mind. Which of these people am I? Sadly and inexplicably, the elevator told me that I was all of them. Every one of there tired expressions glistened in my face. A jolting cringe swam through my body and I left that damned casino. It was time to start the four mile tedious trek all the way to McCarren International Airport.
Between the Super Bowl crowd and some storm of the century in Chicago, flights were at a stand still. I stayed in that damned airport for 26 hours before I finally got on a flight. Sleeping in the airport was the last thing I wanted to do; between the 11 mile hike from Fremont Street, and unforgiving ground of the McCarren Airport, by body was tattered.
I was so happy to finally board my plane, forgetting that I had no where to sleep, and no money for a hotel, in Austin. My first layover was in Houston; about two hours. The next stop would be both my destination and my sleeping quarters: Austin's International Airport.
When I finally left the airport at 9 a.m. one could mistake this Court Tour to be an Airport Tour. A grueling 42 hours had been spent in airports and as I saw the Bus 100 coming to take me to downtown Austin, my fatigued brain mistook it for a mirage. This can't be real, I thought.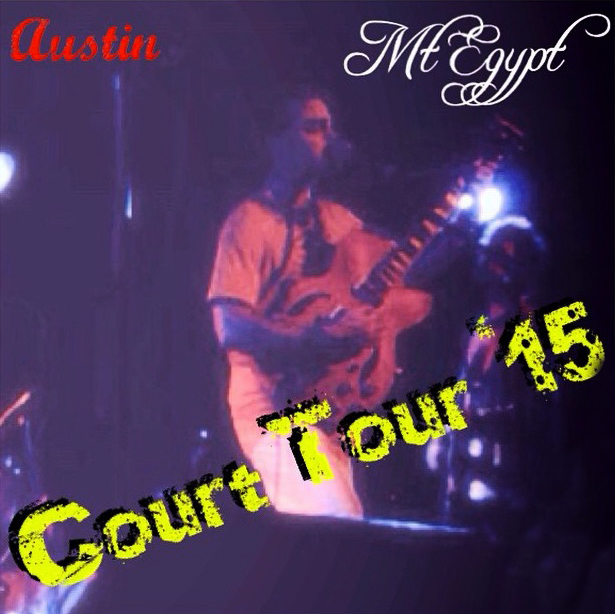 The tour was coming to an end. Part of me couldn't believe I had made it this far. Travis Graves, also known as Mt. Egypt, would be playing a show at Hard Tails Bar and Grill in Georgetown that night. It was his first show in 10 years and Travis, as well as everyone else who was incorporated on this tour, was also a wild card. Austin is known as "The Music Capital" of the world, so why we booked a show in Georgetown alluded me.
"It's gonna be a very intimate show, Travis," Adam said after I shared my concerns. "This isn't some DJ Abair fucking blowout "
Adam paused for a moment to chew his food; probably a Whole Foods sandwich, "which, by the way, that fool is fired!" Adam then ranted for an hour about the disaster at the Mirage and how San Jose was a horrible place to live.
Camila picked me up at a little market that had $1 Lone Stars across the street from a laundry mat; a laundromat that I had searched out to find for four hours, adding another 10 miles to my walking resume on this trip. It was time to get to the venue… or whatever it was.
Travis Graves was outside the empty bar with an acoustic guitar on his shoulder, a half burned cigarette dangling in his mouth and a pea green scarf. I had no idea how he got there. Georgetown doesn't have a bus route. Cabs don't even drive out to the secluded, church going town. It is truly a no man's land and the isolation existing there makes Bremerton, Washington look like New York City.
Travis was super stoked to see me and meet my gorgeous wife. It had been three years since the planets arranged a meeting between us. Travis Graves is truly a cosmic being and one will never meet him through any kind of cell phone call or email summoning. The heavens govern his mysticism, and quite frankly it was hard to believe he was even there.
"So," Travis said with wild eyes scaling the setting skyline, "I have decided not to perform." Before I could even muster a reply, he started speaking a mile a minute about being grounded, early 1990's Nikes, gangster rap and the green scarf around his neck that Kenny Reed had brought to him from Tibet, years before. Then he hugged me, kissed Camila on the cheek and said, "You guys are beautiful." There was a battle raging deep within his eyes. Music was a chapter in his life that he had closed long ago, and opening that chapter again would cause devastation for him. Just by looking at his expression I could feel his mental war.
"Well, at least have a beer with us, man. You came this far and who knows when we will see each other again." Travis smiled with mischief on one side of his lips and love on the other.
Softly, he said,  "Ok Travis. Let's do it."
There were three people in the bar. An old drunk with a beard that most likely grew in that dive bar and a senior couple. They had probably been married for at least 40 years. I looked over at my wife and smiled. She looked back at me with that overwhelmingly cute look of confusion. It was beautiful.
Travis ordered all of us Coors Lights and before I could wrap my hand around the perspiring glass, he sucked his down. That look of mental anguish washed over his face and under his breath, he muttered something like, "Fuck it."
There was a little clearing in the bar where tables had been set aside and a lonely Court Tour poster lurked. Travis walked over to the space, took out his guitar,  plugged it into the amp and started playing.
Travis played, "Song For My Mother." The power from his soul lit up that clandestine, Georgetown bar. The suffering inside my strange, dear friend filled the surrounding emptiness and my air tube clogged with enlightenment. The old couple got up and started dancing slowly, so Camila and joined them. Now Adam's vision had became apparent. Now I knew what he meant by "intimate."
Travis played "Pirate Song," "Zuma Beach," "NYC," and finished with "Battening the Hatches." Each lyric and note was expelled from him with an immense pain, but eloquently as a Puget Sound breeze. As he came to the end of "NYC", people started loading into the bar. Young hip types with beards, flannels and Italian boots. Their chatter among themselves crept into my ease dropping ears. Apparently, word traveled through Austin that Mt. Egypt would be playing in Georgetown for the first time in 10 years; but no one could find the bar. Adam had not made it very clear, as the online promotion just said, "Georgetown Bar." As the last note settled in "Battening the Hatches," Travis thanked everyone for coming out. He stared off into the crowd's vast face and with a sigh, walked to a nearby back door and left the bar. Leaving his guitar behind.
The packed bar exploded with applause and started to demand an encore. Travis came back into the bar and unplugged his guitar. I knew deep down he would not play an encore and it was understood by me that he had just forgot his guitar. Then he plugged his phone into the speaker and I knew trouble was brewing. The wild card had emerged.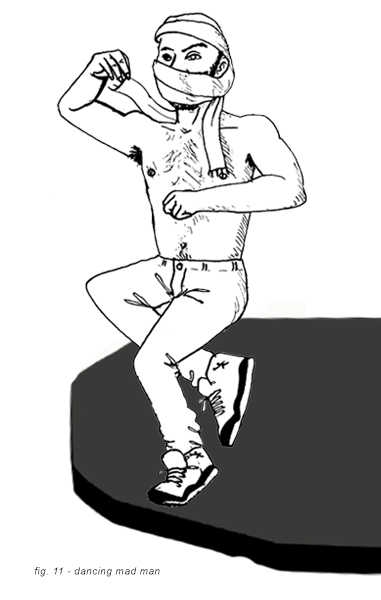 " The wild card had emerged "
Riff Raff's "Tip Toeing in my Jordans" quaked the entire bar and Travis Graves ripped his shirt off. He unraveled the Tibetan scarf from his neck and wrapped it around his face; proceeding to dance like a mad man all around the bar. Weaving in and out of confused glances, Travis returned to the little stage area and bellowed a mad scientist laughed. Then he grabbed his phone, his guitar and left the bar.
An awkward silence lingered in the bar, much like a morning fog creeps over the Santa Cruz Mountains and into the South Bay Area. Horrible flashbacks of the DJ Abair catastrophe came drilling into my mind. I was waiting for a blow out to erupt at any moment, but something entirely different occurred. Something unbelievable.
The crowd went wild and excitement that one would find at the end of a Rolling Stones concert frolicked throughout the watering hole. I told Camila I would be right back and rushed out of the bar after Travis.
Travis was walking down an empty street about a block away or so.
"Travis, wait!" I yelled. He turned around with that mischievous, magical grin. "Where are you going?" I asked
"To the airport," he said.
"Um…" I halted my speech to gather my thoughts, "how?"
"Well, Travis, I am going to follow the stars."
"You mean you're going to walk? I'm pretty sure it's like 30 miles from here." Travis looked up at the clear, star freckled Texas sky.
"Yeah," he said, "something like that." A loud noise caught my attention from behind me. Nestled within the distant, muffled chatter rattling the foundation of the bar, a raccoon had knocked over a trash can across the street. When I turned around, Travis was gone. He had vanished like a shooting star on a crystal night, leaving a huge imprint on my life, yet again.
Travis unwillingly had touched the 80 or so people that sought out Mt. Egypt that night, with his spiritual sounds and encore of insanity. For all of us, it was a timeless moment that we would carry in our lives until the very end. A moment entwined by vines from an eternal tree that would one day sing our last breaths to sleep. Magic resonated in that tucked away sliver of time as it passed altogether, and settled in the barren, candle lit bar.
As the night grew older, and colder, the crowd slowly dissipated out of the bar and back into their lives; lives that were now most definitely changed forever. The Court Tour was officially over. The strange tour that weeks before birthed from a silly comment on Instagram, met it's end on that chili night in Georgetown, Texas.